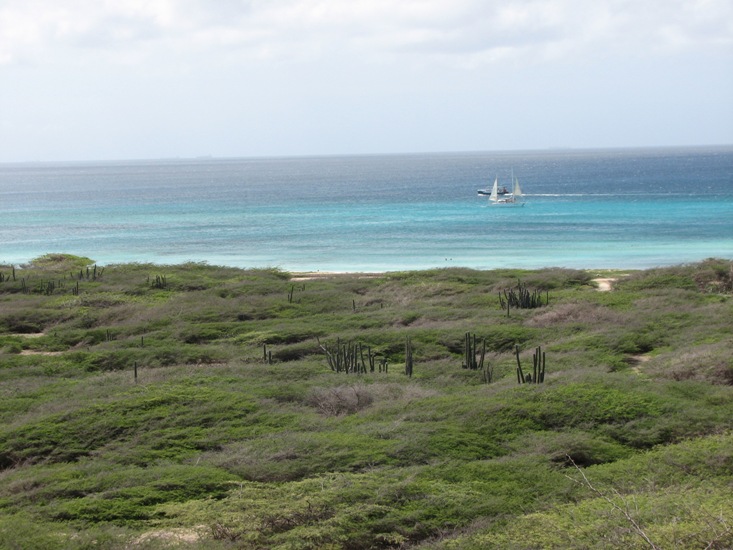 What to do in Aruba in 8 hours
While cruising in Caribbean by Carnival, 6th day of our 8 days cruise was Aruba. Basically, I wanted to take this particular itinerary (Miami – Grand Turk – La Romana – Curacao – Aruba) only because of Aruba. I've heard lots of good things about this place and wanted to see it myself.
Our ship arrived to Aruba at 8am in the morning. We had 8 hours, till 4pm, to occupy ourselves. The first thing we did is took a bus tour around the island. You can find buses waiting for tourists right near the dock.
They offer guided excursion with the details about the area, stops in important places like cactus farm, lighthouse, and after you have some time on the public beach.
The first stop – cactus farm. The signs warn you that you take your own risk in climbing those huge rocks surrounded by cactus.
Here is the view from the top of the rocks on Aruba's land. As you can see, it's mainly flat.
On the way you could see St Ann's church, surrounded by colorful typical buildings.
Cactus is everywhere in Aruba!
Another stop – lighthouse. Here you can also buy some cold coconut smoothie to cool down.
At the end of the tour, they drop you off at the public beach among luxurious hotels.
We had fun swimming in the pool with small fountains.
Look, they have iguanas here as well!
Beach and color of the water is outstanding! Keep in mind, that you'll be required to pay for the shezlong if you need one.
At the end of our stay at Aruba – shopping!
My daughter was happy to get a doll with the name Aruba. She loved playing with it!
And then – back to Miami, to the port of departure. So long, Aruba!