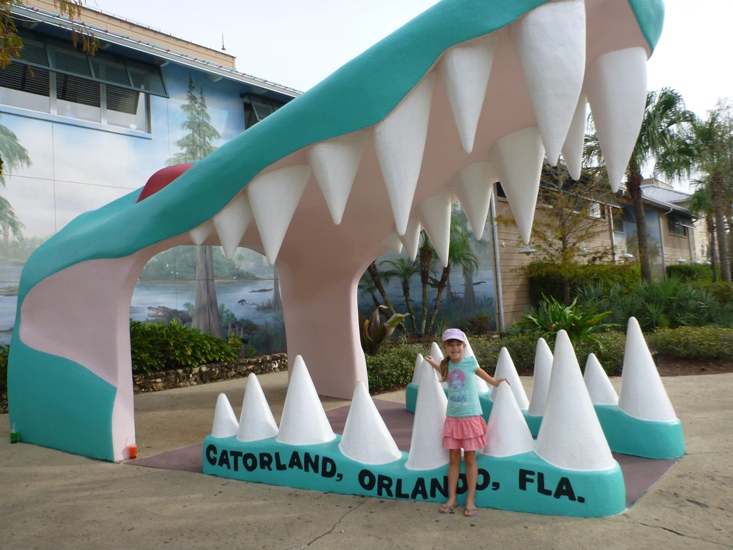 Visiting Gatorland in Orlando, Florida
While driving to Florida, we decided to see some attractions in Orlando. We already visited Sea World before, and this time decided to try something different and less expensive. Our choice was Gatorland – alligator's place.
Here you could see various signs, made with the sense of humor.
Alligators are here and there, fenced, of course.
There was a nice lagoon with wooden bridge, alligators lying in the water, various birds flying and sitting near the reptiles. Lots of educational signs. One of them was mentioning that those white birds stay close to alligators so that other predators don't bother them.
For those that like extreme activities, there is a zipper line above the pond with alligators. You can have a ride while watching them from the top, if you dare to look down.
There is a splash pad with water activities for kids. Bring the swimming suite, towel and sun hat for your kids to enjoy water activities.
If you are tired of walking, you can take a train. It takes you around the area, offers guided tour with historical facts about the place. While having a ride, you can see other animals on the territory.
There are a few shows offered during the day. They are not for someone with the weak nervous system, for sure! One show was about strength of alligator. Did you know that it all consists of only muscles? After the show, people had an opportunity to have a picture of them sitting on the alligator, same as the guy did during the show. Even though the alligator's mouth is tied and you have someone staying close to you, still, I didn't want to take a chance.
Another show was featuring jumping alligators during their meal time. You just need to take you hand off in the right time, cause they snap really quickly!
Overall it was an educational stop, but I don't envy those people who present shows on a daily basis. Snap!
Ready for your alligator's adventure? You can buy tickets in advance.
Disclosure: This post contains affiliate links, and that doesn't affect my personal sincere opinion.