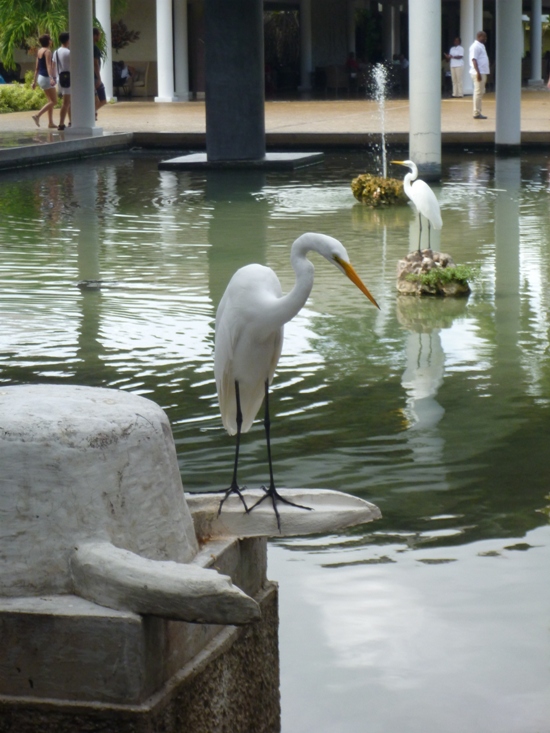 Punta Cana All Inclusive: Catalonia Bavaro Resort
When I've asked my daughter recently what she liked the most from all our travels, she told me without hesitation: "Crepes with Nutella!" Well, she's got a point – those were really good at Punta Cana all inclusive Catalonia Bavaro Beach resort.
Imagine yourself sitting in a comfy white armchair, looking at the ocean, sipping your coffee or cappuccino with freshly made Nutella or apple crepes… I can do this everyday! Well, actually, I did it everyday during our vacation, I love crepes too much!
Hotel description
Catalonia Bavaro Beach, Casino & Golf all inclusive resort  is situated just 20 km from Punta Cana International Airport. This 4 star resort counts 711 air-conditioned rooms featuring free minibar items and LCD televisions. Complimentary wireless Internet access keeps you connected, and cable programming is available for your entertainment.
Room
Room in Catalonia had enough space for 3 of us. They've added extra bad for a child at no extra cost. I loved provided hammock on the balcony. It was a good option for relaxation. We had to change our room the next day after arrival as the one they suggested, just across the theater, was not quiet enough as per our preference. It was easy to do an exchange, and the next day we got nice room close to the beautiful pond with nature and birds.
Small fridge with complimentary drinks and TV is also located in the room. There was a shower and also a bath tub in the separate areas of the room. It can be a nice feature if you just want to rinse the sand off your feet in the bath tub, as there is no door in the bathroom, totally open concept.
Grounds
Grounds at Catalonia Bavaro Beach resort are well kept. You will find variety of trees, bushes in the shape of some animals near the kids area,  water lilies with swimming turtles in the fountain area near the buffet, wooden bridge to the tennis courts along the pond with fish. There are some interesting designs that make this place unique, for example, bench under the shade to keep people cool and rested.
I loved the love locks on the small bridge! It's a nice touch and sentiment for people who will come back to this Punta Cana resort to celebrate their 10 year anniversary of marriage to sparkle the memory of their significant day.
Check the tree near this bridge at night time – it blooms with beautiful pink flowers, but only at night! The flowers are closed during the day and don't look very attractive. This is the first time I saw such a tree here, in Dominican Republic.
We also loved reading or getting rest after lunch inside the big wicker cage with pillows and comfy mattress. What a great idea!
Food
As in any all inclusive resort, food is available 24 hours a day. And as in a typical Dominican resort, quality and variety of food is usually good enough for sophisticated eaters. There are 4 a la carte restaurants in Catalonia Bavaro Beach resort: Steakhouse "Rodeo", Dominican "Yuca", Japanese "Mikado" and Italian. And the best thing is you don't need to book them in advance! Just show up at the restaurant and they will accommodate you. Steakhouse is a very popular and there was usually a line up at this place. We went to Italian and Steakhouse twice. Attractive atmosphere and food made us come back.
Make sure to check creperie at the beach! The snack bar with pizza, fries, hot dogs etc near the kids club was really good. They make different varieties of pizza there, with varied assortment of ingredients, including broccoli and corn.
Entertainment
This all inclusive Punta Cana resort offers a variety of activities during the day: Spanish, dance lessons, aqua aerobics, daily entertainment near the pool area, etc. So you will not get bored. Night entertainment included various shows. Michael Jackson and aerobics shows were very nice. Entertainment team works really hard in the morning and at night time as well. They sing "Ah, Catalonia" song every day. My daughter remembers it even after 6 months of our visit.
Pool area
Resort has a great big pool with small pool for kids. It was hard at times to find free lounge chairs, so I would advise to come early or to make friends with someone who comes to the pool area early. We met very nice family from Chili. It was very sweet of them to offer one of their lounge chairs when we needed it.
Beach area
Punta Cana is famous for its white sandy beaches, and the one at Catalonia Bavaro Beach resort is not an exclusion. I find there was enough shade and enough lounge chairs on the beach. Also, there is a nice sandy walkway from the beach to the open ocean where you can attempt to see some fish underwater. The walkway is very shallow and narrow.
Things to do inside the hotel
There is a gym, spa, ping pong, soccer and pool tables available, tennis courts just across the gym. And don't forget Golf and casino!
Check water sports – we loved canoeing on our last day of vacation. I don't know why we have done it only once during this vacation, but this is something to consider for future. You can also sail with the assistant from the resort, and it's included in your all-inclusive package.
Things to do outside the hotel
There are some options for tours in the area. If you have an extra 1 hour plus of your time and you are patient enough, you can listen to the presentation about privilege club membership and get $50 credit towards excursions. That's what we did. You are not obliged to buy any packages if you don't want to. Even though they will look very disappointed, it's your right to walk away. You will see people in white shirts from privilege club everywhere, it's easy to find them.
We took two tours during this trip. One was to the Monkey land from our tour operator's agent. This excursion wasn't offered during our previous visits to Dominican Republic as this place was opened only recently. And I am glad they have it now. That's a great tour for the whole family and especially for kids! The first part of the tour was educational about different plants, production of chocolate, life of the typical family in Dominican Republic. Another part included a visit to the Monkey land – place with squirrel monkeys.
Another excursion we took was a Santo Domingo tour from the Nexus agency. It included a visit to museum, some architectural and historical places. Part of the tour included a ride on the train in the downtown core. It was very educational.
Overall
Overall Catalonia Bavaro Beach, Casino & Golf is a nice 4 star all inclusive resort with great beach, good food and very well designed grounds. Tour to the Monkey land was the highlight of the whole vacation for sure.
What I would do differently next time
Next time I would insist that room across the theater can't be quiet and ask for the room near the gardens right away. Also, I would spend more time at Creperie and enjoy canoeing more often.
Disclosure: This post contains affiliate links, and that doesn't affect my personal and sincere opinion.